Great

Green Books Reviewed

Welcome everyone to another fun Friday edition of quick hits.  I try to spotlight areas of the green movement that people would find enjoyable or just simply get a kick out of.  Today I decided to focus on an activity near and dear to many of our hearts, reading.  Many of those involved in the green field are avid enthusiasts of the written word or even budding authors themselves!  So, I scoured the internet for reviews of books involving sustainability or environmentalism.  The books must be interesting and the reviews must be well written.  I think the list I put together meets both of these criteria.  Please read the reviews and possibly go out and buy some of these great books.  Enjoy your weekend and here is hoping that it is full of green reading adventures.
It's Easy Being Green by Crissy Trask: Shirley Siluk Gregory of Suite 101 did a review of this, "nuts and bolts," guide to green living. I read this book and agree with the reviewer that it is not only informational but inspirational. For example, Ms. Gregory points out how the book utilizes inspirational quotes and whimsical illustrations to personalize a very no-nonsense explanation of multiple aspects of a sustainable, eco-friendly lifestyle.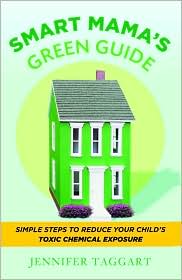 Smart Mama's Green Guide: Simple Steps to Reduce Your Child's Toxic Exposure by Jennifer Taggart: The Devourer of Books Blog gives a glowing review to this title based on not only its readability and solution based approach. What made this review so interesting is that originally the reviewer had to put down the book because she thought it would instill too much terror into her life. She had just gave birth and did not want to know how all these chemicals were hurting, possibly even shortening the life of, her newborn. When she did pick the book up again she found its solution based conclusions to the chapters welcoming. I also agree with how this reviewer sentiments; please give me a solution in your book and not just more things to be afraid of.
Surviving And Thriving On The Land by Rebecca Laughton: The Green Guys Global, a UK based site, gave a mixed review to this text about running a successful small-holding farm. The book follows a scholarly approach (thesis, historical background, subject by subject analysis) and aims to offer an encyclopedic approach to the subject. The author found this to be very informative but not casual reader friendly. Get the book if you are planning on starting a farm but skip it otherwise.
Bothered By My Green Conscience by Franke James: Treehugger reviewed a wonderful book that I simply can't recommend enough. This book is a collection of five illustrated essays that Mr. James originally presented on his blog, which can be found here. A funny and honest look at one man's pursuit of a green life.
Food Matters: A Guide to Conscious Eating by Mark Bittman: Finally, we turn to Kings University and their review of this eco-conscious diet book. This great little read is really a two-in-one deal. The first half of the book revolves around on how Mr. Bittman changed his own personal eating habits and got healthy. This is mixed with a heavy dose of information regarding the food industry. The second half is a recipe book that puts this new lifestyle into action. A perfect food book, equal parts prose and recipes, that leaves any reader with a good aftertaste.